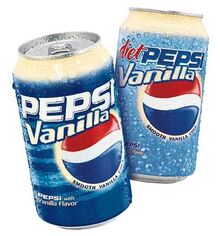 Released in Canada and the U.S. in 2003 as Pepsi's answer to Vanilla Coke. Contains vanilla extract as well as both natural and artificial flavors. Even though it is no longer produced, Diet Pepsi Vanilla is currently available. Re-launched as Cherry Vanilla Pepsi in 2010 with the addition of natural cherry flavor. Re-launched with real sugar in June 2014.
Varieties
Edit
Ad blocker interference detected!
Wikia is a free-to-use site that makes money from advertising. We have a modified experience for viewers using ad blockers

Wikia is not accessible if you've made further modifications. Remove the custom ad blocker rule(s) and the page will load as expected.