River (brand)
Edit
River is a no-name / store brand pop sold in a soft 1.5L plastic bottle exclusively at Aldi.
Even with the additional refund (given back when the customer returns the bottle to be recycled) added to the price in some areas, River is still less expensive than other brands.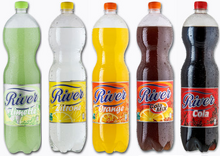 Flavours
Edit
Except for Lime, all other flavours have a 0% sugar option.
Store Info
Edit
Aldi is a deep discount store found throughout Europe and the United States. Unlike many other grocery stores, the pop and other drinks are located right at the front door, and products are sold in the cases they are shipped to the store in; however customers can choose to buy pop individually on in small quantities.
Ad blocker interference detected!
Wikia is a free-to-use site that makes money from advertising. We have a modified experience for viewers using ad blockers

Wikia is not accessible if you've made further modifications. Remove the custom ad blocker rule(s) and the page will load as expected.