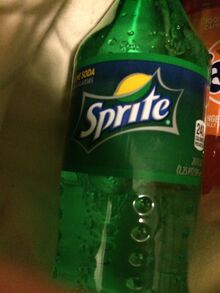 Sprite is a lemon-lime flavored cola owned by the Coca Cola Company.
It was developed in West Germany in 1959 as Fanta Klare Zitrone ("Clear Lemon Fanta") and introduced in the United States as Sprite in 1961. This was Coke's response to the popularity of 7 Up.  It comes in a primarily silver, green, and blue can or a green transparent bottle with a primarily green and yellow label.
Ad blocker interference detected!
Wikia is a free-to-use site that makes money from advertising. We have a modified experience for viewers using ad blockers

Wikia is not accessible if you've made further modifications. Remove the custom ad blocker rule(s) and the page will load as expected.