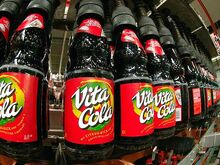 Basic information
Edit
Vita Cola is a citrus flavoured cola. It is sold in 1L hard plastic bottles and .33L cans.
Vita Cola is more expensive than store brands such as River, but less expensive than other brands such as Pepsi or Coca-Cola.
History and Popularity
Edit
It was first made in the 1950s in East Germany / DDR [1] While it is not as popular as it used to be, in Thuringia (a state in Germany) people rated Vita Cola higher than Coca-Cola. [2] This is an amazing feat, since apart from the three countries that do not sell Coca-Cola - Myanmar, Cuba and North Korea [3] - there are only a few places on the planet where Coca-Cola is not the #1 soda [4]
Ingredients
Edit
Natural mineral water, Sugar, Carbonic acid, Acidulants (E 270, citric acid, phosphate), Dye E150 d, Natural aroma, Vitamin C, Caffeine.
References
Edit